COMMERCIAL GEOTHERMAL
Our commercial division is licensed in Maryland, Delaware, Virginia, North Carolina and Florida.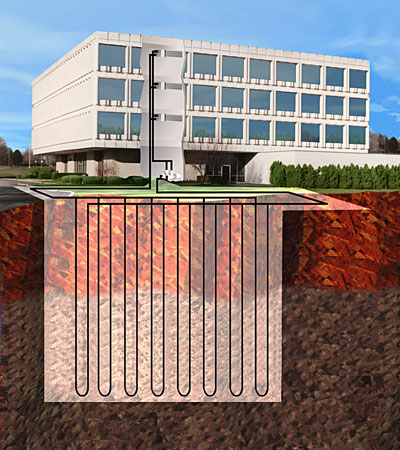 Winslow Pump & Well, Inc. can provide:
Geothermal test wells with stratigraphy logs
Thermal conductivity testing
Conductivity data reports
Footage per ton data conversion engineering
Loop field design engineering
Vertical closed loop wells
Standard and enhanced grouting
Horizontal loop field header systems
Inground polyethylene vaults with manifold system
Inbuilding polyethylene manifold system
Consulting and design review
Field inspections and quality control services
Ground Source Heat Pumps (GSHPs) are a cost effective, energy efficient, and environmentally friendly way of heating and cooling buildings. Both the Department of Energy and the Environmental Protection Agency have endorsed the technology. GSHPs reliably deliver quality air-conditioning and heating, on demand, in every season. GSHPs are appropriate for new construction as well as retrofits of older buildings. Their flexible design requirements make them a good choice for schools, high-rises, government buildings, apartments, and restaurants--almost any commercial property. Lower operating and maintenance costs, durability, and energy conservation make Ground Source Heat Pumps the smart choice for commercial applications.
• Winslow Pump & Well, Inc •

Certifications

Partial List of Completed Projects

Affiliated &/or Worked with

• IGSHPA (International Ground
Source Heat Pump Association)
Certified Installing Contractor
• NGWA (National Groundwater
Association) Certified
Contractor
• WaterFurnace Certified Installer
• Climate Master Certified Installer
• Vanguard Plastics Certified
Installer
• Numerous certifications from
pipe and equipment
manufacturers

• Guard Houses - 1600 Pennsylvania Ave,
Washington, DC
• NSA Director - Fort Meade, MD
• Base Housing - Fort Meade, MD
• 4 Projects - Patuxent River Naval Air
Station, MD
• 2 Projects - Fort Eustis, VA
• NSGA Base Housing, VA
• BEQ, Oceana, VA
• King George County Court House, VA
• Currituck County Court House, VA
• Nag's Head Municipal Center, NC
• 4-H Camp, NC
• Great Bridge Middle School, VA
• Choptauk Middle School, MD
• Holly Hall Elementary School, MD
• Delmar Middle School, DE
• Quantico Fire and Rescue Squad, VA
• Base Housing - Fort Myers, DC
• Base Housing - Bowling AFB, DC
• Warehouse - Lillian Vernon, VA
• Warehouse - Aberdeen, MD
• Baton Library, VA

• Department of Energy
• Environmental Protection Agency
• Geothermal Heat Pump
Consortium
• Virginia Power
• North Carolina Power
• Southern Maryland Electric
Co-op
• Potomac Electric Co-op
• Baltimore Gas & Electric
• Pennsylvania Power and Light
• National Ground Water Assoc
• International Ground Source
Heat Pump Association
• University of Oklahoma
• University of Alabama
Ground Source Heat Pumps offer great benefits:
Simultaneously heat & cool different parts of the same building
Very quiet--users do not know when the system is operating
Can be set up in multiple zones, with each zone having an individual room control
Greater freedoms in building design due to 50-80% less mechanical room space
No outside equipment to hide, eliminating vandalism and roof top units
Pipes have 50-year life expectancy
All electric, which eliminates multiple utility services
Boiler and chiller maintenance
Ground heat exchanger is maintenance free and will last 50+ years
Ground Source Heat Pumps offer great savings:
Very competitive on initial costs and lower lifecycle costs than most HVAC systems.
Savings of 25-50% on energy consumption
Lower peak demand, lowering your operating costs
Water heated with waste heat from air conditioning at no cost in the summer and at substantial savings in the winter
Some utilities offer rebates or incentives to their customers who purchase GSHPs.
Ground Source Heat Pumps are environmentally friendly:
Conserve natural resources by providing efficient climate control and thus lowering emissions
Minimize ozone layer destruction by using sealed refrigeration systems, which seldom or never have to be recharged
Use underground loops to transfer heat, with no external venting and no air pollution
Very energy efficient, with the earth providing over 70% of the energy required to heat and cool